Manage Projects from Start to Finish
Spend less time in planning your project and more on getting it done.
Work Better Together
Unlock your team's potential by giving them the freedom to collaborate when and how they want—using Wiki, Forums and Chat.
See What's Ahead
Feeds keeps your finger on the pulse of every project. Plan for events, be alerted to missed deliverables, view critical requests.
Stay On Top…On-The-Go
Being out of the office shouldn't take you out of the loop. The mobile app lets you get updates right from your smartphone.
Fastest Tool. All in one page
Your projects move fast. Zoho Projects moves faster. It loads in a flash, giving you a complete view of events as they happen.
All You Need For All You Do
Zoho Projects has all you need to keep projects on time and on target—including planning, time tracking, reporting and more.
Work with Google Apps
The Google Apps integration allows you to sync tasks from gmail and import files from Google Drive. Literally on the same page.
Features
All the features you would expect from a Project Management tool and more. Some examples bellow.
Feeds, Your Team Coordinator
Say hello to Feeds – the smart, simple way to keep your team and projects on the fast track. Feeds helps team members effectively communicate and collaborate on what matters most. All in a highly visual environment that's easy to navigate and use.
Get more done
Follow feature lets you to track the individual progress.
Know what's coming
Feeds listens to everything and tells you what's next.
Share your images
Have a great idea to share ? Say it with pictures.
Reduce email. Improve team collaboration
Manage all your project files in one place and instantly share with team members. Wiki Pages are a great way to create, share and respond to project-related content like documents, spreadsheets, video clips. The built-in chat rooms lets everyone to discuss and make decisions faster.
Create team intranets
Create and manage team intranets with wiki pages.
Keep conversations going
An idea is only great when it's shared using forums.
Decide with chat rooms
Come together to discuss topics and resolve problems.
Everything a project management tool does
Create important project files directly on your browser to instantly share with team members wherever they are, whenever you want. Get the complete picture. Dynamic Gantt charts let you visually track and share project status, apply the right resources to complete tasks and assign roles to get more done.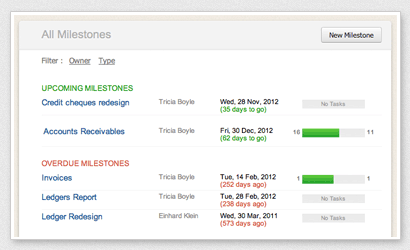 Put files in one place
Keep everyone on the same page. Literally.
Get the complete picture
Gantt charts lets you visually track status of the tasks.
Track time with ease
Time is money. Save both with the Time Tracking feature.
Zoho Projects for Google Apps
Zoho Projects takes your Google Apps experience to the next level by providing you with an integrated environment where your teams can better communicate, collaborate and manage projects. While customers enjoy the e-mail and calendaring functionality that Google Apps provides, they also recognize the need for a robust collaboration and project management solution, that's Zoho Projects!
Events in google calendar
Sync all your projects events in Google Calendar.
Import from Google Drive
Bring your projects files from Google Drive into Zoho.
Sync tasks in Gmail
Sync tasks from Zoho into Gmail and vice versa.
More Great Features
There's a lot more in Zoho Projects to help you manage your projects :
iPhone and Android Mobile Apps
Editions & Pricing
Zoho Projects is offered in several editions to match customers specific needs.
Express

$

50

/month

Base Features +

Total number of projects available in this edition.

15 Users

Total storage available in this edition.

10 GB Storage Space

Total number of project templates available in this edition.

10 Project Templates

Time Tracking

Sync Google Tasks

-

-

Annual : $480 (2)
Premium

$

100

/month

Express Features +

Total number of projects available in this edition.

20 Users

Total storage available in this edition.

100 GB Storage Space

Total number of project templates available in this edition.

20 Project Templates

Sub Tasks

Business Hours

Recurrence & Reminders

Editable Gantt Charts

Annual : $1.020 (2)
Enterprise

$

150

/month

Premium Features +

Total number of projects available in this edition.

25 Users

Total storage available in this edition.

100 GB Storage Space

Total number of project templates available in this edition.

30 Project Templates

Skip Weekends & Holidays

Reports Tab (across projects)

Timesheet Approval

-

Annual : $1.500 (2)
Prices are in dollars (USD).
(1) Available Paid Add-ons : Pages/Wikis, Chat Rooms and Bug Tracker.
(2) Annual subscriptions include price savings and unlimited projects.
Note : Additional Services Available
Why TopSolutions ?
We are an experienced Zoho Alliance Partner that can assure a smooth and quick adoption of Zoho Projects by providing services at a competitive pricing.
TopSolutions Additional Services
Zoho Projects setup and configuration

Data import

Technical support and maintenance

Security configurations

Customization
Training services

Reporting

Integration with other services (Google Apps, …)

Other specific services on request
Choose us as your Zoho Projects partner wherever you are : Albania, Andorra, Angola, Armenia, Belarus, Belgique (Belgium), Bosnia and Herzegovina, Brazil, Bulgaria, Croatia, Czech Republic, Danmark, Deutschland (Germany), España (Spain), Estonia, Finland, France, Georgia, Greece, Green Cape Islands, Hungary, Ireland, Island, Italia (Italy), Latvia, Lithuania, Malta, Moldova, Mónaco, Mozambique, Nederland (Netherlands), Norge (Norway), Polska (Poland), Portugal, Romania, Russia, São Tomé e Princípe, Serbia, Slovakia, Slovenia, Suisse (Switzerland), Sverige (Sweden), Turkey, Ukraine, United Kingdom, …) and benefit from the experience of the cloud business solutions leader.